The IJF World Judo Tour's final stop before the opening of the Tokyo 2020 Olympic qualification phase is upon us as the Antalya Grand Prix has attracted 319 judoka and 50 nations to the country's famed resort city.
Turkey's annual Grand Prix comes one week after Georgia's Tbilisi Grand Prix and before April's respective continental championships. The next IJF event after this weekend will be the Hohhot Grand Prix at the end of May as China launches the two-year qualification period which for the first time will see an equal number of male and female athletes qualify (18 per weight category).
Official Draw - Antalya Grand Prix 2018
Despite the close proximity to the start of the Tokyo 2020 qualification, Antalya has lured countries from across all corners of the world with a star-studded field of athletes including former Olympic champions and reigning world champions.
Beijing 2008 Olympic champion NAIDAN Tuvshinbayar (MGL) won a remarkable bronze medal at the World Championships last year and the 33-year-old legend competes on Sunday in Turkey for the first time this year.
World champion Nemanja MAJDOV (SRB) is looking for his first medal since capturing his first world title in 2017. The youngster can put down a marker as he bids to qualify for his first Games by winning in style on the last day of the Antalya Grand Prix.
London 2012 Olympic champion Sarah MENEZES (BRA) is back down at -48kg and is ready to embark on her bid to qualify for her third consecutive Olympic Games.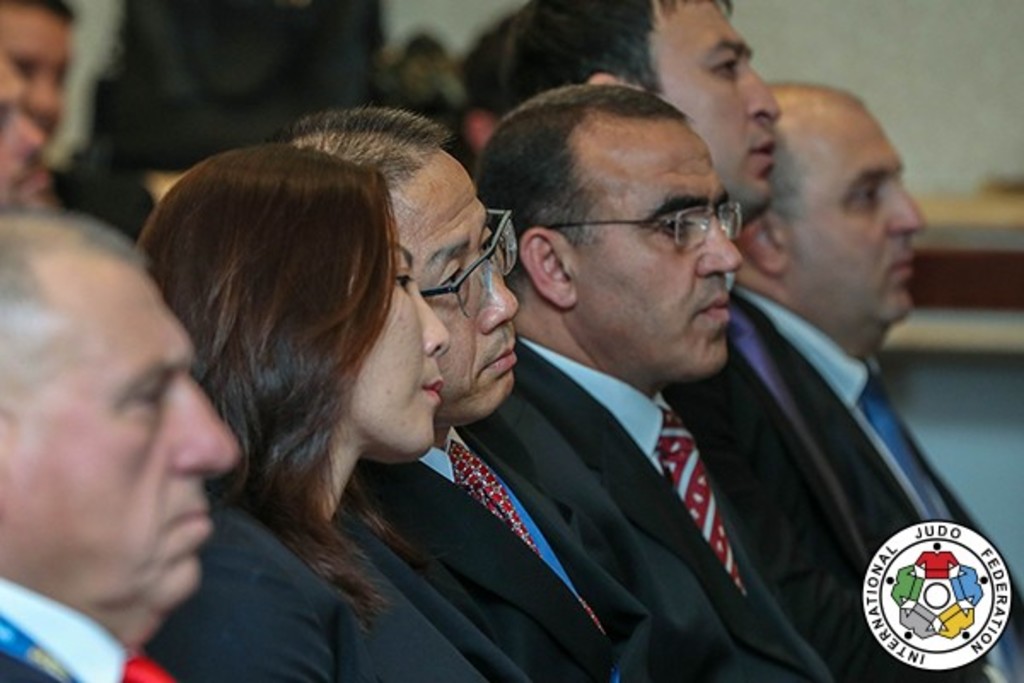 Coaches study the draw on the eve on the Grand Prix
Hosts Turkey have assembled a 36-strong squad for their own Grand Prix and have medal chances on all three days.
Lisa ALLAN, IJF Competition Manager, made the opening address at Thursday's draw on behalf of the International Judo Federation.
"Dear esteemed guests, good afternoon everyone, on behalf of the International Judo Federation and our President Marius L. VIZER, we thank you for your support in attending this Grand Prix here in the beautiful city of Antalya. We know many of you have travelled long distances to be here and your presence is much appreciated.
"When we are here in Turkey with our judo family, one thing is certain, we are guaranteed a warm welcome and excellent hospitality.
"We wish to acknowledge President Sezer HUYSUZ and his organising committee for their hard work and efforts in preparing this event. We are also grateful to all of the sponsors and partners whose backing allows the IJF World Judo Tour to take place.
"I wish you all a successful competition."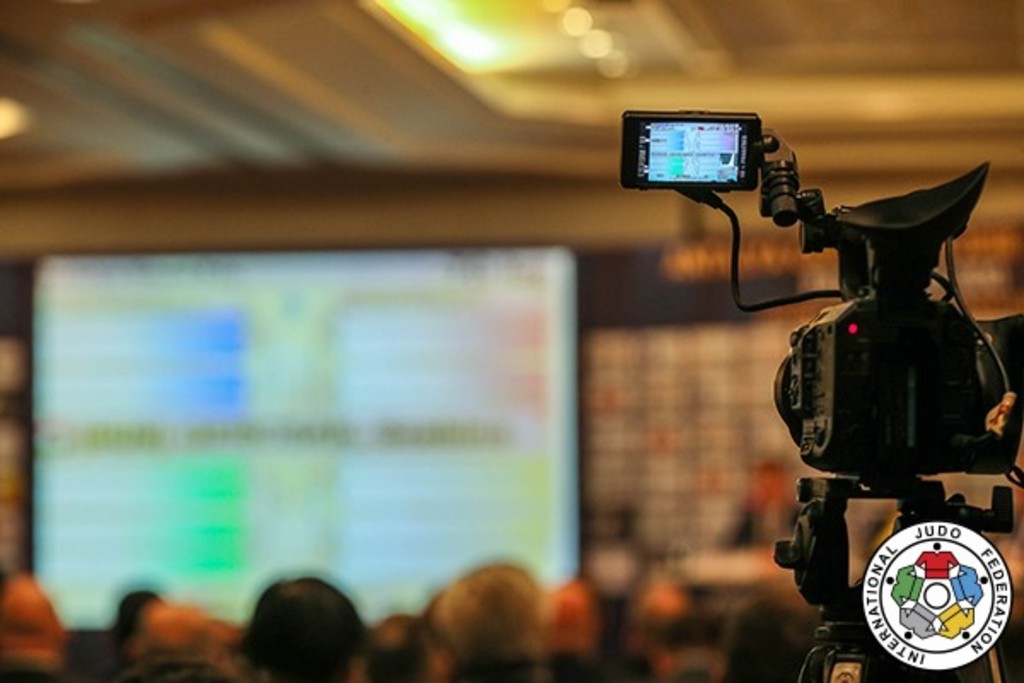 Sezer HUYSUZ, Turkish Judo Federation President, said: "Good afternoon distinguished guests, I welcome you all to Antalya for our Grand Prix and thank you all for coming.
"It is a pleasure to see you all here and we are working very hard to deliver the best event possible for you. I wish the very best of luck to all countries and delegations."
Watch all three days of #JudoAntalya2018live and free on the IJF website.
Use #JudoAntalya2018 to join in with the social media discussion
---
PREVIEW: WOMEN
-48kg
Tbilisi Grand Prix winner Marusa STANGAR (SLO) jumps straight back into action a week after her Georgian gold and will start as the -48kg favourite on day one. London 2012 Olympic champion Sarah MENEZES (BRA) marked her return to -48kg by picking up a bronze medal in Tbilisi and looks on track for another medal tilt in Turkey. The hosts will look to Dilara LOKMANHEKIM (TUR) who hopes to have finally put her injury woes behind her as she competes for only the second time since the Rio 2016 Olympic Games.
-52kg
Paris Grand Slam bronze medallist Distria KRASNIQI (KOS) will be the top seed in the -52kg category. World number five KRASNIQI has been amongst the medals at both of her competitions this year with silver at the Tunis Grand Prix and third-place in France and looks set to make it three medals from three events in 2018. Tashkent Grand Prix winner Betina TEMELKOVA (ISR) has her best chance to medal since her victory in Uzbekistan. The 21-year-old won in October and has missed the podium in her six IJF appearances since then including last week in Tbilisi where the Israeli lost in round one. Fellow youngster Chelsie GILES (GBR) will also be worth monitoring as she looks to improve on her best place finish of seventh on the Grand Prix stage.
-57kg
Tunis Grand Prix gold medallist Nora GJAKOVA (KOS) is a three-time Grand Prix winner and all three of those victories have come in the last 12 months. The first win came here in Antalya one year ago and GJAKOVA will be confident of defending her title for a fourth win. Former world bronze medallist Sabrina FILZMOSER (AUT) will be the most experienced judoka in the -57kg category. The 10-time Grand Slam medallist, 37, has been to three Olympic Games (2008, 2012, 2016) and could write a book about her top-flight career and all of her off the mat endeavours including her contribution to the Judo for Peace movement in Nepal and climbing the Manaslu Mountain in the Himalayas. FILZMOSER has won in Paris twice and will be looking to return to the podium for the first time since June 2017.
-63kg
Tunis Grand Prix bronze medallist Magdalena KRSSAKOVA (AUT) is aiming to win her second Grand Prix gold medal and comes into the competition as the top seed. KRSSAKOVA triumphed at the Tbilisi Grand Prix last year and finished seventh at the invite-only World Judo Masters. Tbilisi Grand Prix bronze medallist Lubjana PIOVESANA (GBR) will also harbour her own medal ambitions. Two-time Grand Slam bronze medallist Busra KATIPOGLU (TUR) will be one of Turkey's strongest medal hopefuls in the three-day competition and will be supported by her parents in the arena on Saturday.
-70kg
World Judo Masters bronze medallist Anna BERNHOLM (SWE) will be bidding to convert her top seed status into her first Grand Prix win on Saturday. The world number six won the Abu Dhabi Grand Slam last year and is looking for her first medal of the season. Olympic bronze medallist Sally CONWAY (GBR) comes into the Antalya Grand Prix on the back of winning the Paris Grand Slam and is the favourite for -70kg gold in Turkey. CONWAY, 31, can expect world-class opposition in the form of double world medallist Maria BERNABEU (ESP) and Tbilisi Grand Prix silver medallist Kelita ZUPANCIC (CAN) while there are a host of youngsters who could find a route onto the podium.
-78kg
World bronze medallist Natalie POWELL (GBR) is the judoka to beat in the -78kg category. Welsh ace POWELL is a 15-time Grand Prix medallist and took bronze at the Düsseldorf Grand Slam last time out in February. The Irfon Judo Club product is ranked third in the world and is the top seed for Sunday's -78kg competition. Tbilisi Grand Prix silver medallist Anastasiya TURCHYN (UKR) will again challenge for honours. It will also be worth checking the progress of IJF World Judo Tour debutant Loriana KUKA (KOS) as her country are now filling out their roster with more talent in more weight categories.
+78kg
Ekaterinburg Grand Slam winner Larisa CERIC (BIH) took silver in Antalya a year ago and will be confident of ending the tournament on a high this time around. Tashkent Grand Prix silver medallist Gulzhan ISSANOVA (KAZ) is 34 years old but still has the ability to trouble the field in Turkey. The five-time Grand Prix medallist, whose career highlight has been a bronze medal at the World Judo Masters in 2012, can be considered as one of the strongest judoka in the category and should have enough spirit to earn a medal on day three.
PREVIEW: MEN
-60kg
Former world silver medallist DASHDAVAA Amartuvshin (MGL) finally opens his 2018 season on Friday and will hope to pick from where he left off in 2017. The 30-year-old won bronze at The Hague Grand Prix, silver at the Tokyo Grand Slam and bronze at the Masters to finish 2017 and has bided his time this year as he has patiently waited for a selection on the international circuit. Two-time Grand Prix winner Bekir OZLU (TUR) is Turkey's main man and will be heavily backed on day one. OZLU took silver at the Antalya Grand Prix a year ago but won the Samsun Grand Prix in 2016 and starts as the second seed behind the Mongolian favourite. Zagreb Grand Prix bronze medallist Albert OGUZOV (RUS) could enter the medal picture.
-66kg
World Judo Masters winner GANBOLD Kherlen (MGL) has walked away from a Grand Prix with a medal on 11 different occasions and that know-how could see him through on Friday. The 26-year-old Mongolian, who is ranked seventh in the world, is the number one seed as his country have lofty ambitions of walking away with the lightest men's titles in Antalya. Yeldos ZHUMAKANOV (KAZ) was the man GANBOLD defeated in the Masters final and they renew hostilities on day one while Tbilisi Grand Prix silver medallist and Junior World Championships winner Daniel CARGNIN (BRA) could make it a Grand Prix medal-winning double before heading home to Brazil.
-73kg
World Judo Masters bronze medallist Hidayat HEYDAROV (AZE) will be one the top Azeri judoka on show this weekend. The 20-year-old has never won a Grand Prix having took bronze in Turkey a year ago and is the red hot favourite to strike -73kg gold on Saturday. World Judo Masters bronze medallist Tommy MACIAS (SWE) is ranked sixth – one place lower than HEYDAROV – on the World Ranking List and has won four Grand Prix medals but is still waiting for his first title. Double world bronze medallist AN Changrim (KOR) is a two-time Grand Prix winner and won bronze on his only outing thus far on the IJF World Judo Tour in 2018. The much-admired South Korean could steal the show at -73kg while Tunis Grand Prix winner Zhansay SMAGULOV (KAZ) could also be among the medal winners.
-81kg
Düsseldorf Grand Slam winner Saeid MOLLAEI (IRI) has starred on the IJF World Judo Tour over the last year by winning Asian Championships, Grand Prix, Grand Slam and World Championships honours. The world number three is on the fast-track to becoming a household name in the sport and to make that step he will need to deliver his first Grand Prix title which could materialise on Saturday. Hohhot Grand Prix bronze medallist CSOKNYAI Laszlo (HUN), Zagreb Grand Prix bronze medallist Jack HATTON (USA) and Paris Grand Slam silver medallist LEE Seungsu (KOR) are also without a Grand Prix victory but that should change on Saturday for one of the aforementioned -81kg judoka.
-90kg
Two-time Grand Prix winner USTOPIRIYON Komronshokh (TJK) will provide some serious firepower in the -90kg category. The top seed for Sunday is always there or there abouts on the IJF World Judo Tour when it comes to the medal picture but the world number seven will have his work cut out for him on the last day in Turkey. World champion Nemanja MAJDOV (SRB) finished fifth on his return in March at the Agadir Grand Prix. The 21-year-old Serbian judoka will wear his red backpatch for only the second time and will have to be braced for potential opponents such as two-time Grand Slam bronze medallist GANTULGA Altanbagana (MGL), former World Judo Masters silver medallist Axel CLERGET (FRA) and Tbilisi Grand Prix winner Rafael MACEDO (BRA).
-100kg
World Judo Masters bronze medallist CIRJENICS Miklos (HUN) is part of a five-strong team for Hungary and could secure their best result at the Antalya Grand Prix. CIRJENICS tasted Grand Prix success for the first time in 2017 when he won the Zagreb Grand Prix and will fancy his chances of gold in Turkey ahead of a medal push at April's European Championships. Tokyo Grand Slam winner CHO Guham (KOR) took silver in Paris in February and is ranked 21st in the world – as he is not as active as some judoka – but should by all accounts by considered the favourite for gold.
+100kg
Paris Grand Slam silver medallist KIM Sungmin (KOR) is the most distinguished judoka in the men's heavyweight category. The four-time Grand Slam winner and eight-time Grand Prix medallist has been on with every heavy-hitter in his decade long run on the international stage and has beaten the majority of his greatest rivals. Tashkent Grand Prix silver medallist Iurii KRAKOVETSKII KGZ), Junior World Championships silver medallist Stephan HEGYI (AUT), Tbilisi Grand Prix silver medallist Javad MAHJOUB (IRI) and world bronze medallist and Mongolian national treasure NAIDAN Tuvshinbayar add some significant bulk and power to the ever-intriguing heavyweight men's category.
PROGRAMME
Friday 6 April
Preliminary rounds - 10:30
Final Block - 16:00
Saturday 7 April
Preliminary rounds - 10:30
Opening ceremony - 15:00
Final Block - 16:00
Sunday 8 April
Preliminary rounds - 10:30
Final Block - 16:00