Day two of the Antalya Grand Prix 2018 belonged to Sweden who won two gold medals to skyrocket up the medal table and into second place.
Top seed Anna BERNHOLM (SWE) went unbeaten in the -70kg category while the seeded Tommy MACIAS (SWE) grabbed -73kg gold.
Former -63kg judoka BERNHOLM (below), 27, missed out on a spot at the 2016 Olympics as compatriot Mia HERMANSSON went who was eliminated in the first round.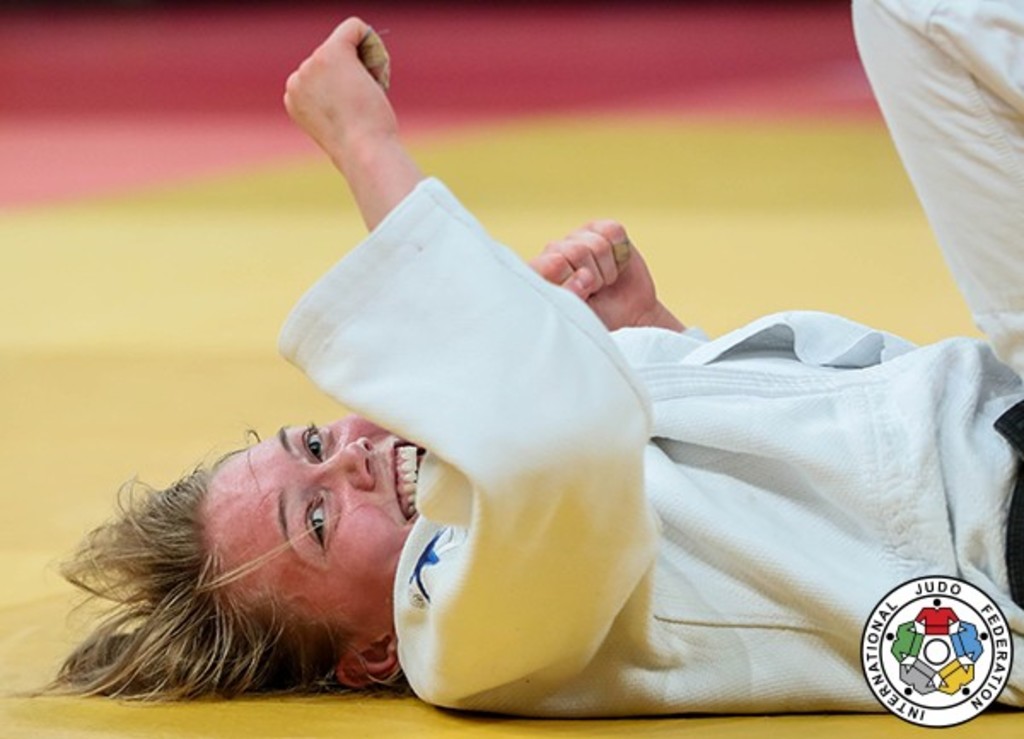 The former knew that something had to change if she wanted to realise her ambitions in top-flight judo and a switch to the -70kg category in 2016 has not only reinvigorated her career but transformed it.
BERNHOLM won Grand Slam gold for the first time in her career last year and now has Grand Prix gold to add to her growing medal collection after another inspired display in the -70kg category.
Tommy MACIAS also missed out on Rio 2016 and has had a notable upturn in results since missing out on a spot at South America's first Olympics.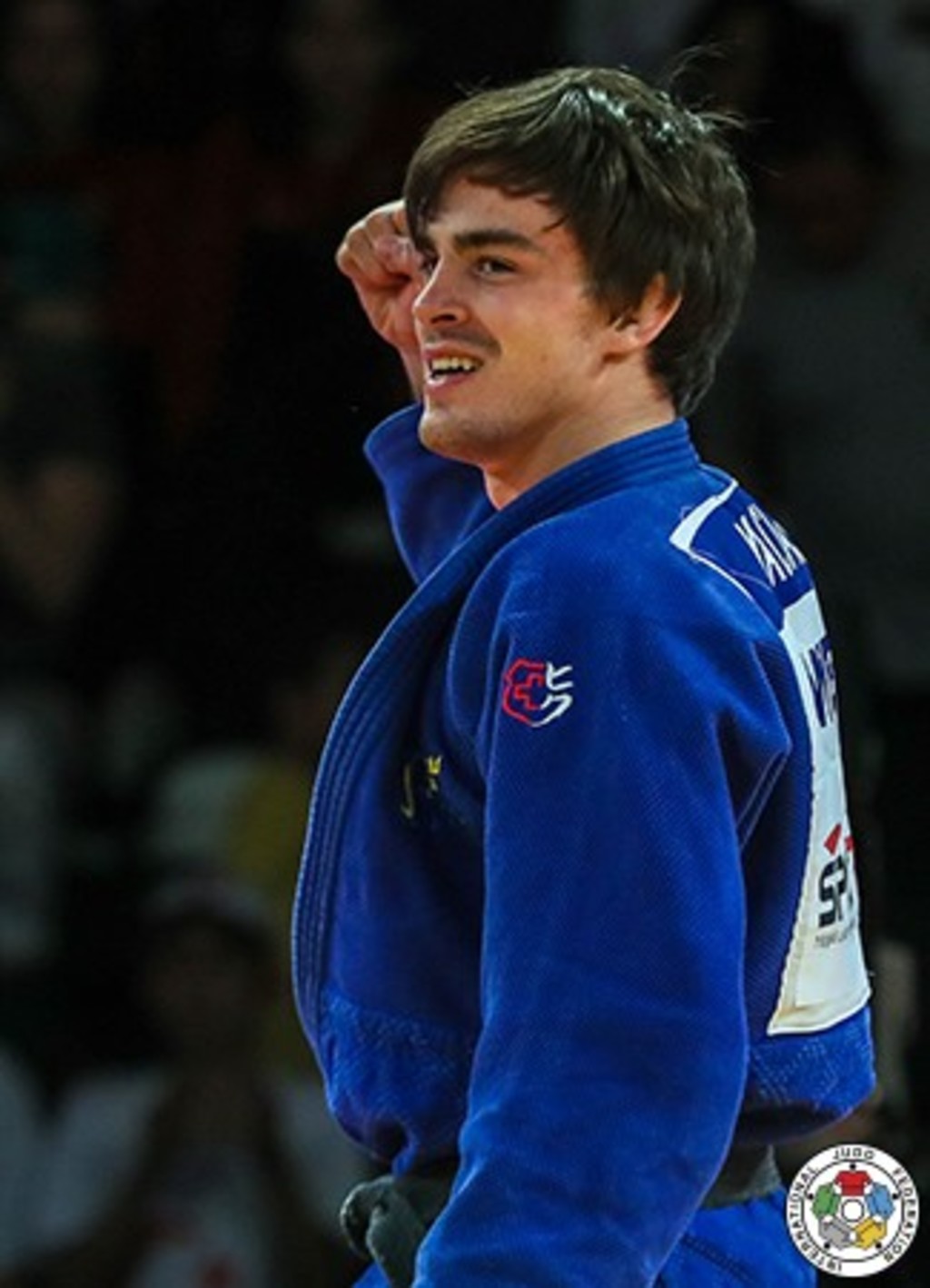 World number six MACIAS (above), 25, has also improved his results but in the same category. The Stockholm native, like his teammate and fellow gold medallist, has also struck Grand Slam and Grand Prix gold since 2016.
Sweden prove time and time again that no matter the expectations and the size of a country, or a team, craft and desire – as well as world-class skills – can conquer any stage and opponent with no end of excitement.
Emotion and jubilation as Turkey hit the medal trail
Vedat ALBAYRAK (TUR) won his second Grand Prix gold for Turkey in the last two months with another commanding display in the -81kg category.
CLICK HERE TO WATCH THE EURONEWS FEATURE
Agadir Grand Prix winner ALBAYRAK made his debut for Turkey in January with silver at the Tunis Grand Prix and continued to make his presence felt on the IJF World Judo Tour today.

ALBAYRAK (blue judogi) wins his -81kg semi-final by ippon against GRIGALASHVILI (GEO)
ALBAYRAK, 24, who previously represented Greece, is now three for three, in terms of medals, at Grand Prix events in 2018 for Turkey with a short-lived outing at the Paris Grand Slam the only time he has missed the podium this year.
Turkish judo's prolific medallist will be a major contender at the European Championships later this month and will be a judoka to keep tabs on during the road to the Tokyo 2020 Olympic Games.
The hosts also had reason to celebrate in the women's -63kg category when world number 46 Busra KATIPOGLU showed her grit to seal a place on the podium at home.
KATIPOGLU lost a mammoth semi-final after six minutes of golden score. Having spent 15 minutes on the tatami in total the Istanbul-based judoka regained her composure and put her emotions aside to come out in the final block with renewed determination.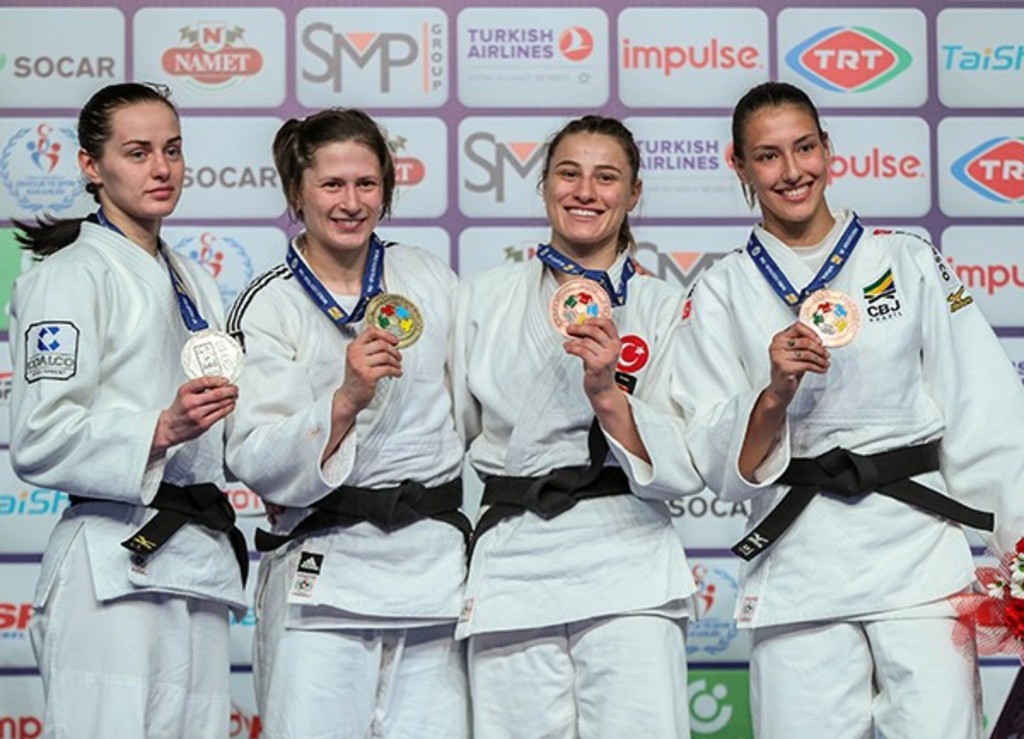 The two-time Grand Slam bronze medallist stormed to victory in her bronze medal contest to the elation of the crowd and her parents who were matside. Rarely has a bronze medal meant so much to one judoka but for KATIPOGLU (centre - right) it meant the world as she could stand proud on the podium and see her flag raised in front of her compatriots and most importantly her mother and father.
Opening ceremony
Sezer HUYSUZ, Turkish Judo Federation President, made the opening address following a parade of the flags of the 50 competing nations.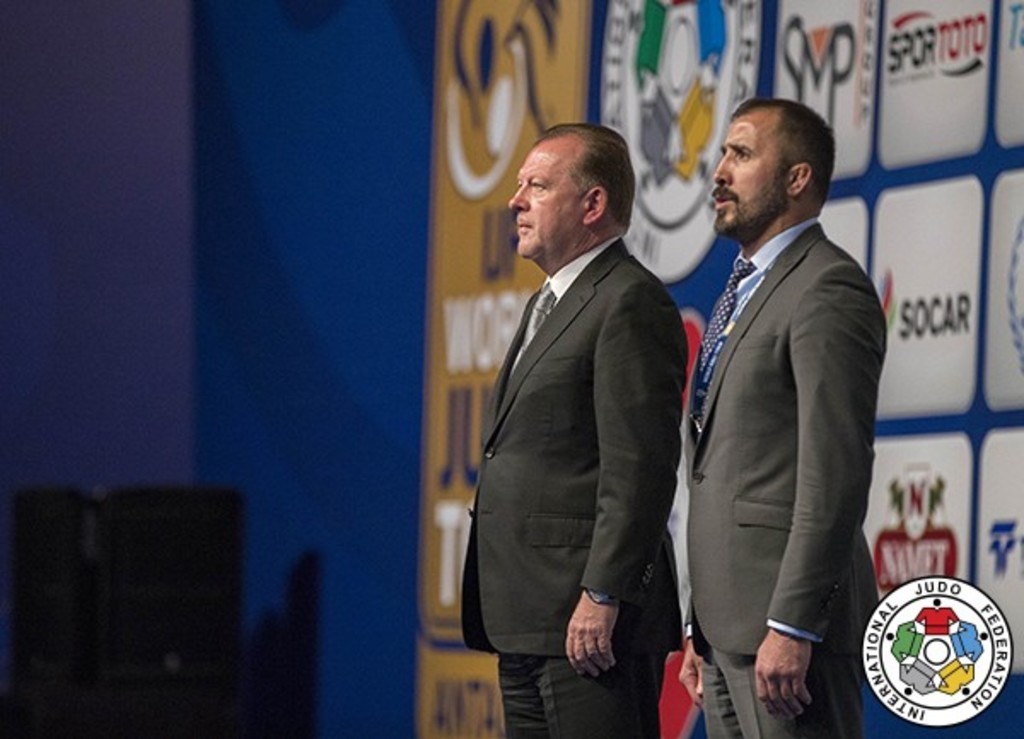 Marius L. VIZER, IJF President and Sezer HUYSUZ, Turkish Judo Federation President
"Dear Governor, IJF President, dear national teams, judoka, officials, guests, I welcome you all to the Antalya Grand Prix 2018. Antalya is one of the most beautiful cities in Turkey and has a wonderful sporting tradition.
"Here watching the world and continental champions we are seeing judo of the highest level and we can enjoy a great competition. Once again I would like to thank the IJF President Marius L. VIZER and all the Turkish Judo Federation officials and thank you to all the supporters."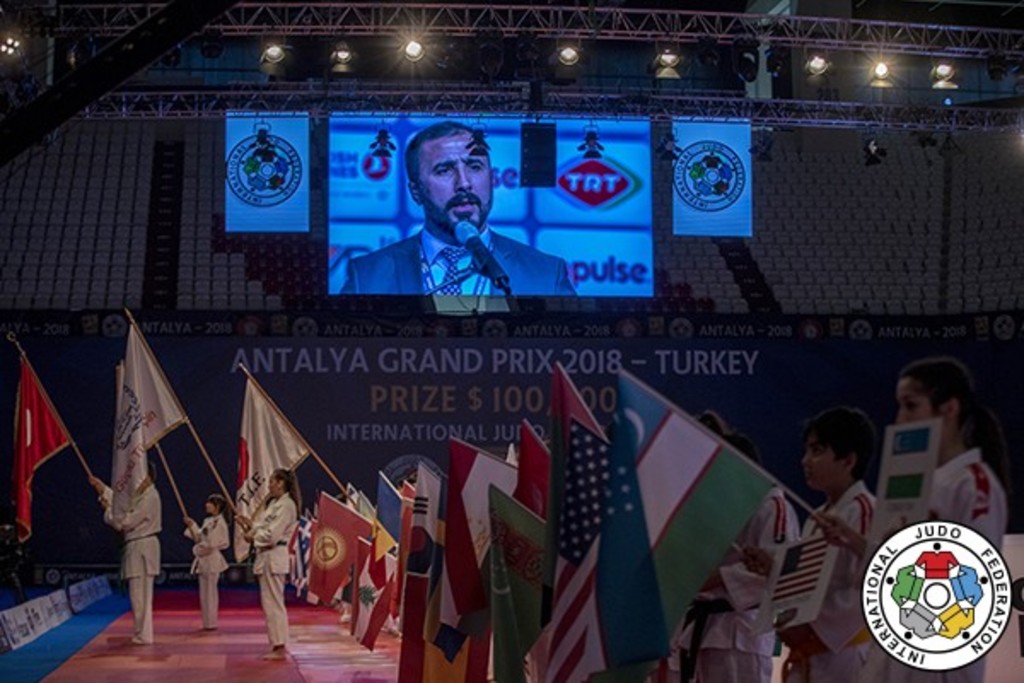 Marius L. VIZER, IJF President, addressed the audience to conclude the opening ceremony.
"Dear President (Pat) HICKEY, dear President HUYSUZ, dear judoka, officials, it is a great pleasure to come back every year for the Grand Prix in Turkey. I want to congratulate the Turkish Judo Federation for the development of judo and promotion of our sport around the world as well as for their organisation of our elite Grand Prix events over the last few years.
"I wish you a successful competition and to enjoy Antalya, thank you."
Watch the third and final day of #JudoAntalya2018 live at www.IJF.org
---
PROGRAMME
Sunday 8 April
Preliminary rounds - 10:30 (Three tatami)
Final block - 16:00 (One tatami)
Men: -90kg, -100kg, +100kg
Women: -78kg, +78kg