The men's heavyweight category was heavy on excitement once again this weekend as all eyes were on the final contest of the Antalya Grand Prix 2018.
It was yet another compelling +100kg final that had viewers on the edge of their seats following an outstanding clash between World Judo Masters winner Guram TUSHISHVILI (GEO) and former Grand Slam winner Javad MAHJOUB (IRI) in the Tbilisi Grand Prix seven days ago.
A week removed from the thriller in Tbilisi, MAHJOUB was back and with gold in mind after winning nine Grand Prix medals but never gold.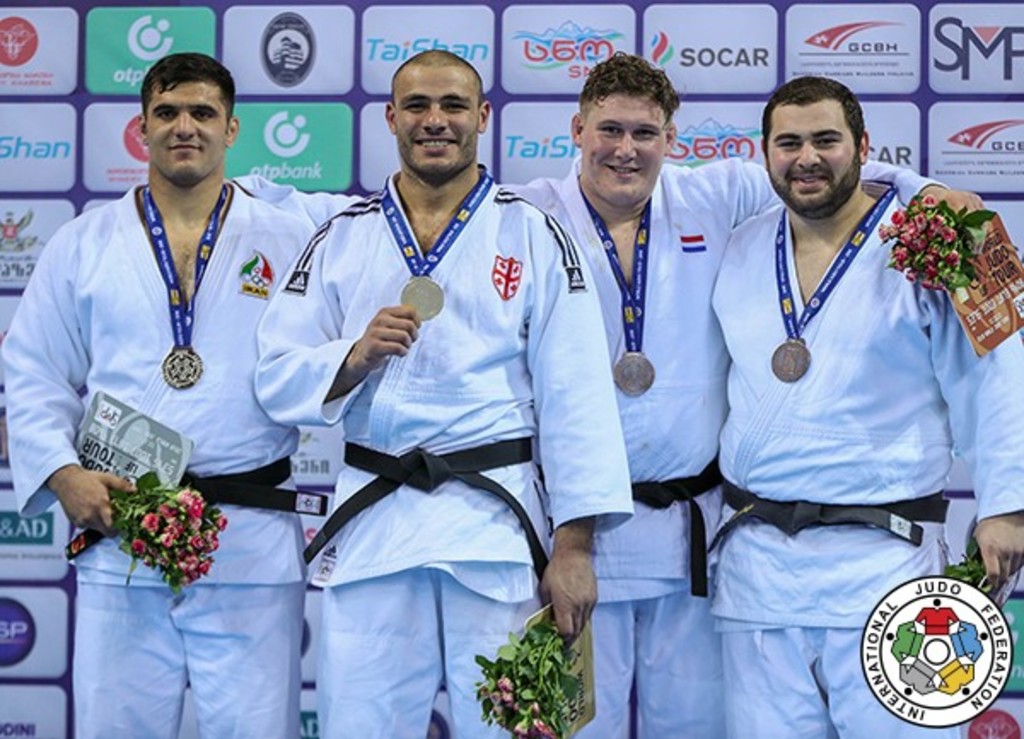 MAHJOUB (far left) on the podium a week ago in Tbilisi, Georgia
The story picks up when you learn that MAHJOUB missed the birth of his first child in mid-week as he was already in Antalya ready to compete for his country and to maintain his steady climb up the heavyweight rankings.
Javad's baby girl Hilda MAHJOUB may be some distance away in Iran but he was thinking of her all day long while he was competing.
While MAHJOUB may look slightly under-sized for the category he moved up to in 2017, what he lacks in size he makes up for in heart and again left everything on the tatami with a lung-busting performance.
Junior world champion Inal TASOEV (RUS) did not read the script as he erased the headlines journalists had already penned and won his first IJF World Judo Tour crown in golden score to give a sublime finish to the competition when he threw with an o-goshi for ippon.
Both men deserve plaudits for their attacking efforts as they almost went throw-for-throw which made for an exhilarating gold medal contest. After his second Grand Prix silver medal in the space of a week, MAHJOUB let all of his emotions out after a tumultuous week.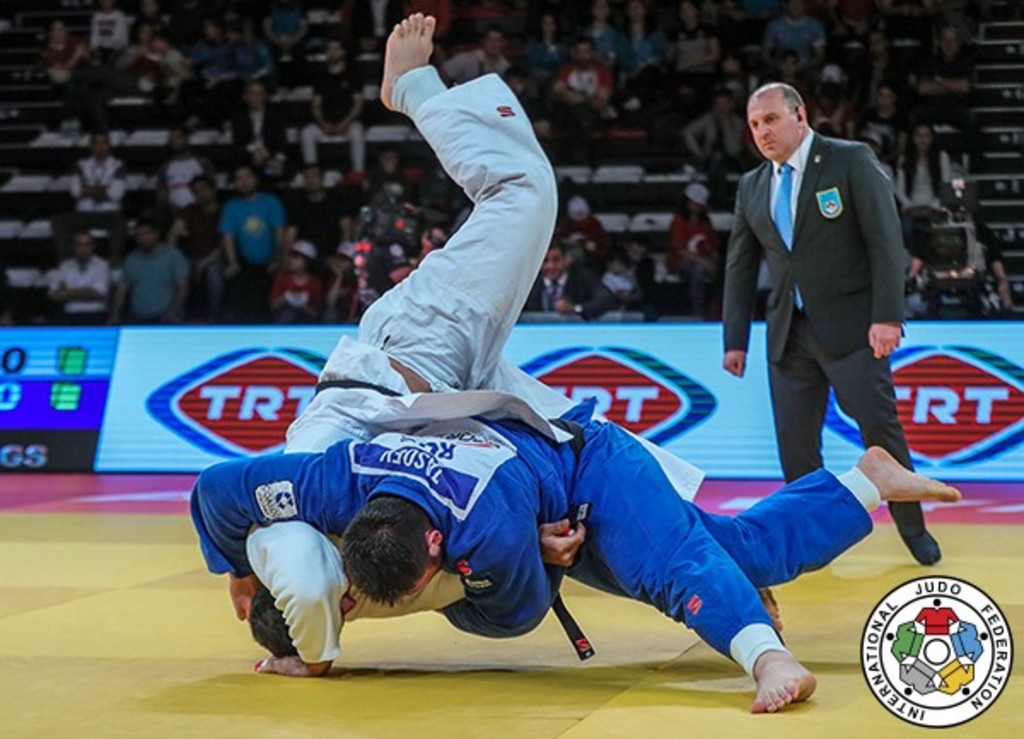 MAHJOUB (white judogi) went down fighting in the +100kg final in Antalya
"It is difficult to put into words what I am feeling at the moment," said MAHJOUB who earned two Grand Prix silver medals either side of the birth of his daughter.
"My body and spirit is here in Antalya but my heart is home with my baby girl who means the world to me.
"I knew that this may happen while I was away and I was prepared for it as my career is what lets me provide things for my family.
"Judo is my love and my family is my life. I am thankful for what I have received this week. I feel ok about the silver medal. It's two in a week, I wish it could have been gold both times but I am making small steps in the heavyweight category."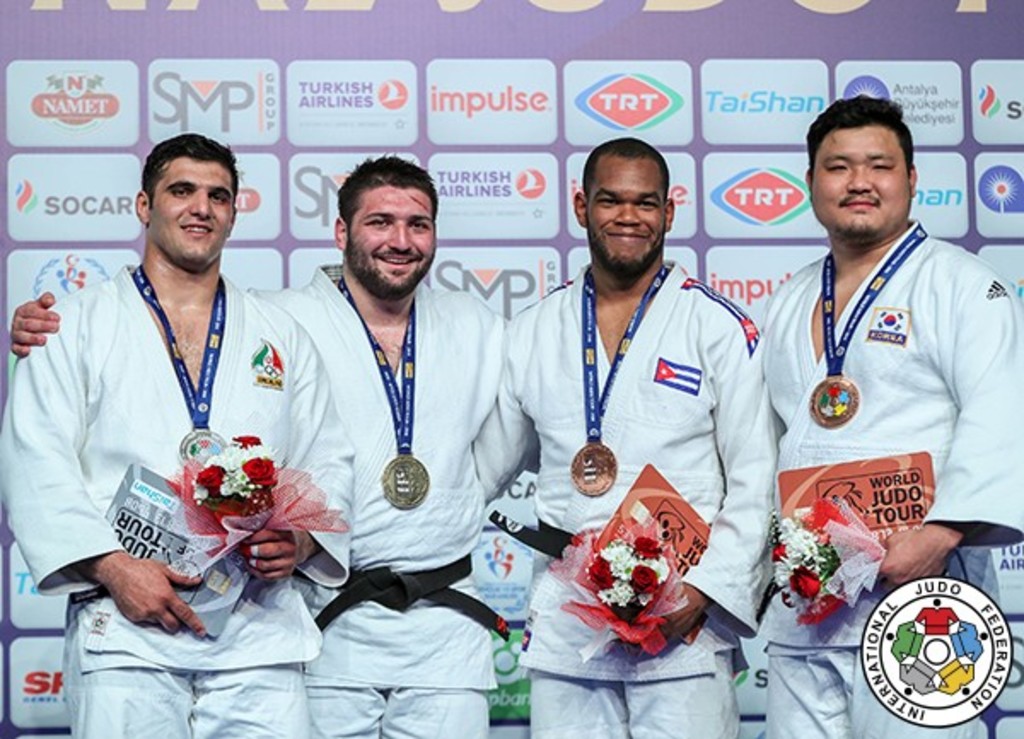 MAHJOUB on the podium today in Antalya
MAHJOUB feels that there is still a lot more to come from him and underlined his immediate plans as the IJF World Judo Tour takes a moments breath before the Tokyo 2020 Olympic qualification phase starts in May.
"I feel like I am getting stronger in this division but I know I can win and I am prepared to work harder to do it," said the 26-year-old.
"I feel like I need to do more power training at home in Iran and I will do everything I can to become a better judoka."
Ten-time Grand Prix medallist MAHJOUB, who expects to return to action at the Hohhot Grand Prix in May, shared his post-event plans which revolve around his family rather than the tatami.
"I cannot wait to arrive home now and be reunited with my family and our new family member who looks adorable. I will then return to competition with renewed passion and will give my all on the judo mat for the ones I love. This is my passion and my family are my motivation. I hope I can give my best performance in Hohhot and can start my road to Tokyo 2020 with a Grand Prix win at last."